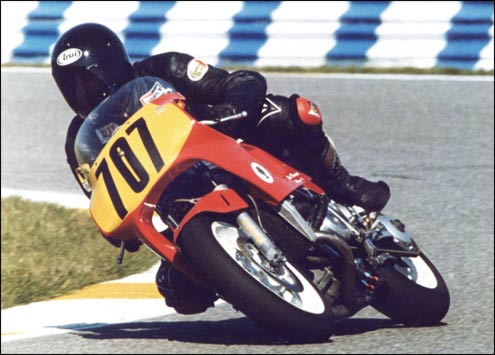 Harold Seagle, a Wilmington attorney, finished third recently in the Daytona Beach, Fla. Bike Week's Supersport race. Seagle overcame a crash in practice and some mechanical difficulty to outrun many of the world's top riders.
Wilmington attorney enjoys ballet of racing
By Brian Henderson, Staff Writer
Wilmington Star-News
Originally printed March 17, 1999
For many people, third place would hardly be considered a victory.
Unless they look at their sport the way Harold Seagle does.
Seagle, an attorney at the Rountree and Seagle legal firm in Wilmington, places third at the Daytona Bike Week's Supersport race on Feb. 27 at Daytona International Speedway.
But considering he competed against 40 of the top amateur riders from around the world, many of which are 25 years his junior, and overcame major problems just to enter the race, it was about as great as any first-place finish.
"It's not so much winning the race, it's doing well with what you have to work with,' Seagle said. "To be there with that group of riders, there's a great deal of satisfaction. I think everyone there experiences some sense of victory just to be there and experiencing crossing the checkered flag."
Seagle has been involved in racing for many years, going back to his days in law school at the University of North Carolina when he would ride off-road with friends. The law has always been Seagle's first love, and responsibility. He's been named to the Best Lawyers in America list for the last six years.
But racing is still a passion.
For Seagle, racing is a great stress reliever that possesses a unique beauty. The delicate balance between riding and crashing and the body control necessary to negotiate between the two has drawn Seagle to the sport for years.
"It's kind of like music," Seagle said. "There's something beautiful about it. There's a balance, a symmetry to it.
"It's kind of like a mechanical ballet."
But when things go wrong in this ballet, dancers don't just trip. Instead, they slide, or flip, at speeds ranging from 50 to 150 miles per hour and hope their leather suits hold up.
Seagle said he doesn't crash often, and he's always careful to protect against wrecks. But the risk is there.
"You always have a respect for it. You always know the danger," Seagle said.
Like at Daytona.
Driving in his first round of practice for the Supersport race, Seagle hit, what he believes was, a spot of oil on the track that sent his bike sliding out of control. The bike needed body work, brake work and the controls needed repairing – typical damage for that type of wreck.
But it can throw race preparations into a tailspin of chaos.
Seagle wasn't injured in the wreck. The only evidence of his spill was a spot on his leather gloves that had worn through. He was lucky; Seagle needed his healthy body to chase down parts for the repairs.
Then, after finishing the repairs and making a practice run the morning of the Supersport race, the bike's gearbox failed. Emergency repairs were performed, and Seagle wheeled his bike onto the track just ten minutes before the race.
"It ran OK, but it was down horsepower," Seagle said. "But that's racing. It's an exercise in perseverance. The victories are getting everything to work and finish the race."
And that exercise in organized chaos is what keeps bringing Seagle back to the track even though he finances his hobby himself. And it is what will keep him returning to his three-to-four races every year.
"But I'm keeping my day job," Seagle said.