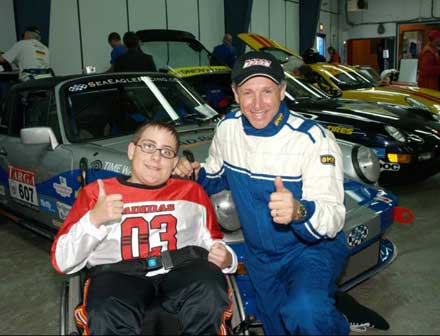 Seagle with Jonathan Pittman. Pittman is the Easter Seals Ambassador for the Easter Seal kids throughout Newfoundland and Labrador.
Harold Seagle of Sea Eagle Racing Wins Targa Trophy in Targa Newfoundland 2006
Lawyers Weekly
October 30, 2006
Asheville attorney Harold Seagle recently completed the running of the Targa Newfoundland Rally in Canada and won the Targa Trophy, finishing second in class and fourth overall among rookies.
The race was held from Sept. 9-16. Seagle, formerly of Rountree & Seagle in Wilmington, is now in practice in Asheville, having returned to his home in the mountains of North Carolina.
He is a past president of the Fifth Judicial District Bar and is listed in The Best Lawyers in America and Who's Who in American Law.
Although Seagle has been active in motorcycle racing for many years, this was his first rally and his first time racing the Porsche 911 SC.
Targa Newfoundland is an annual six day, 2200-kilometer international rally-race around the rugged coast and acrossthe challenging roads of Newfoundland. Competing in this year's rally were race teams from Australia, Canada, New Zealand, the United Kingdom, and the United States.
The racers and their sponsors raised more than $40,000 in support of the Targa Newfoundland favored charity, the Easter Seals Kids of Newfoundland and Labrador.