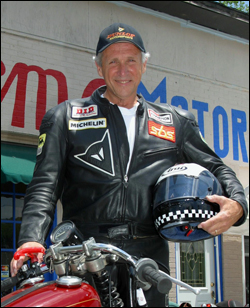 Harold Seagle stands beside the 1937 Indian Scout
on which he set a new class land speed record.
Marion native sets record on vintage bike
Staff Reports
The McDowell News
July 6, 2007
Asheville attorney and Marion native Harold Seagle of Sea Eagle Racing brought home three class land speed racing records from the East Coast Timing Association land speed races held in Maxton May 19 and 20.
One of the records came on a 1937 Indian Scout hand-shift motorcycle owned by Scott Olofson of Acme Motorcycles in Asheville, a bike Seagle said is a museum-quality Indian.
The East Coast Timing Association is the East Coast version of the sanctioning body that runs the Bonneville Salt Flat Land Speed Races in Utah each year. Both sanctioning bodies are national organizations, with the Bonneville group providing a convenient venue for West coast racers while ECTA is more convenient to the East coast. While the Bonneville races cover a much greater distance, the East coast group runs only 1 mile from a standing point.
Seagle was at the race primarily to campaign the Time Warner Cable / Road Runner High Speed Online Porsche rally car with which his race team contests the Targa Newfoundland Rally each September.
Seagle was thrilled to have set two land speed records in two separate divisions with the car, but was anxious to try the Indian. His first run topped out at 88 mph, although Seagle said the 70-year-old bike with no rear suspension made the speed seem much greater.
After the first attempt, Seagle reported back to Olofson, who acted as mechanic, that the bike was making good power, but was redlining far too early and running out of gearing. They discussed the possibility of actually breaking the existing record with a speed of more than 90 mph. With that goal, Olofson took apart the entire rear hub assembly of the bike in order to change the gearing.
Seagle took off on his second run, and was confident it was faster than the first. Sure enough, the time slip read 91.01389 mph – enough for a new class land speed record for the Indian. For more information on Sea Eagle Racing, visit the Web site at www.seaeagleracing.com. For more information on the East Coast Timing Association, go to www.ecta-lsr.com.